Full Time
Posted on 16 June, 2022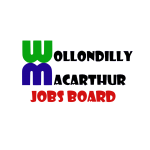 Website Airocle
Natural ventilation solutions
About the Company:
We provide buildings with innovative and environmentally sustainable natural ventilation which benefit industry, commerce and the community.
Airocle is 100% Australian-made, with all our products locally manufactured.
We're trusted by the biggest brands in Australia across manufacturing, government infrastructure, food services, chemical storage, warehousing and distribution.
There's a change in the wind. People are now concerned with the way buildings are designed, constructed and optimised. Here at Airocle, we believe that we are an integral part of that change.
We meet the demands of complex industries with our wealth of technical expertise and bespoke solutions, whether that be commerce, mining, government infrastructure or the community.
Job Brief:
We are looking for a talented Marketing Executive to undertake marketing projects for the benefit of our company. You will organise creative campaigns and promotional events that can make a difference for our company's success according to trends and customer requirements.
The ideal candidate will be passionate for the "art" of marketing and will have an abundance of ideas for building efficient strategies. He/she must bring forth a strong array of techniques and methods to promote our products, services and public image.
The goal is to reach out to the market and cultivate the customer's interest in our products and services in ways that strengthen our reputation and facilitate our continuous growth.
Objectives of the Role:
Support management in delivery of effective marketing programs that achieve company and client objectives
Assist in execution a variety of marketing initiatives that drive brand awareness, trial and distribution, including the day-to-day execution across marketing campaigns, promotions, and sales support
Support the development and execution of sales and marketing materials, adapting scopes, timelines, and deliverables as needed for maximum benefit
Build skill sets and engage in ongoing education for the company
Daily and Monthly Responsibilities
Collaborate with team members to execute sales and marketing campaigns, leading brainstorming sessions to execute marketing plans for internal and external projects
Manage company social media (LinkedIn, Facebook, Pinterest & Instagram), including developing content to share across accounts.
Organise paid marketing campaigns (LinkedIn, Facebook, Pinterest & Instagram)
Like and engage with relevant posts on social media to boost following
Manage Managing Director's LinkedIn account
Liase with the engineering team, sales team & Managing Director to ensure marketing collateral are up to date and data is correct
Liase with third party organisations to create video & design content
Help gather, analyse and present brand, competitor insights, trends, and data
Contribute to other lead generation and customer-acquisition activities, such as networking, trade shows, and events
Assist with implementation of new website & online store
Design, create and oversee email campaigns
Asist sales team with preparation of presentations for client meetings
Oversee launch of new products
Measure and report performance of marketing campaigns, gain insight, and assess against goals
Collaborate with managers in preparing budgets and monitoring expenses
Skills and Qualifications
5+ years' experience with marketing
Experience with HubSpot (Preferred)
Hands-on experience developing marketing campaigns and strategies
A design flair and passion for company brand
Exceptional oral and written communication skill, and presentation ability