Casual
Posted on 19 November, 2021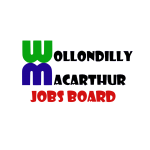 Website Intrim Group
WE ARE URGENTLY SEEKING CASUAL WORKERS FOR A SPECIAL PROJECT IN THE LEAD UP TO CHRISTMAS! BASED IN PICTON.
If you:
Are able to stand/work on a concrete factory floor for 7+ hours per day
Can follow instructions
Can safely lift up to 16kgs unassisted
Can operate safely in a noisy environment with heavy machinery and sawdust
Can work with hand-held power-tools (training provided)
Are at least 17 years old
Have the right to work in Australia
Are fully vaccinated against COVID-19
Are available to work at least 3 shifts per week
Then we want to hear from you!
We are recruiting NOW! Please send your resume to [email protected]
Standard Hours are 7am-3.30pm Monday to Thursday, 7am-1.00pm on Fridays. Weekday and some weekend overtime on offer.