Part Time
Posted on 12 October, 2021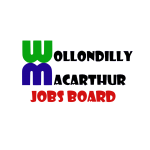 Katie's Kindergarten and Early Learning Centre
******Part Time Position, Childcare Cook*****
We are seeking a permanent part time Childcare Cook to join our team. You will be required prepare and create nutritious meals on a daily basis. We have a planned rotational menu that meets the daily intake for our children.
Katie's Kindergarten and Early Learning Centre is a family owned and operated business. Katie's Kindergarten is much more than just a childcare centre. Based in Tahmoor, we endeavour to provide a safe, clean and caring environment and encourage family relationships and community involvement, where each child will be valued, respected and nurtured.
Applicants must
–        Hold a working with children check
–        A current food safety certificate
–        Have both Covid-19 Vaccinations
–        Be reliable
Please send through your resume to [email protected] or call the centre on 02 4683 3900.