Full Time
Posted on 14 November, 2023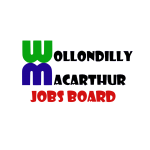 CAMDEN PRESCHOOL
CAMDEN PRESCHOOL
Early Childhood Trainee Certificate 3
Camden Preschool is a Community Based non-profit preschool who operate 41 weeks per year, 8am to 4pm ,providing a play based educational program for 4–5-year-olds.
Camden Preschool Kindergarten is currently seeking a full-time trainee, 18 years or over, to commence in Term 1 2024. This is an opportunity for you to be working alongside long term experienced professional staff who will help support and guide you through a 12–18-month traineeship to obtain your Certificate 3 in Early Childhood Education and Care.
We will offer paid rostered study time in the workplace – 3 hours per week.
As an Educator in Training, you will work as part of a team to provide quality education and care while observing the policies, procedures, values, and philosophies of Camden Preschool.
You will support children in their development and physical care whilst learning about practice through nurturing relationships and positive interactions.
As a valued member of the team, you will support educators to observe and document children's learning and development and assist in the day-to-day operation of the room.
Whether it's your first career choice or a change in careers, it's the drive to learn, grow and ultimately build a career nurturing a love of learning for children in their early years that matters.
What we need from you:
The motivation to study towards a Certificate III in Early Childhood Education & Care
Passionate about creating better outcomes for local children, families, and communities.
A willingness to obtain a Working with Children Check
Excellent verbal and written communication skills
Outgoing, energetic with a willingness to contribute to our team.
The ability to work 40 hours a week, with an RDO monthly, this includes 3 hours a week off the floor study time.
A commitment to making sure the children in our care are safe and healthy.
Implementing programs for children indoors and outdoors environment
Ability to develop strong connections with children and effectively communicate with families and other educators.
Please apply in writing by sending your CV and a short, one page cover letter explaining your passion about becoming an early childhood educator. Please include supporting documents via email to:
Applications will close Thursday 30th November 2023.